Create the Practice Website Your Patients Deserve

In 2014, if you're not providing your patients with the same kind of rich, interactive and mobile experiences they get from their favorite online shopping and entertainment sites, you're missing important opportunities and putting your practice at a major competitive disadvantage. Here are a few proven ideas and suggestions for building a game changing website for your practice:
Make a Lasting Impression with Memorable Design
Your website is often the first contact potential patients have with your practice, so make sure you invest in a professional, modern design that captures the essence of your brand and makes a strong first impression.
Give Your Patients Content They Care About
Build a logical and consistent menu structure that makes it easy for patients to find important information—and make sure the copy on your site is active, easy to read, up-to-date and focused on your audience.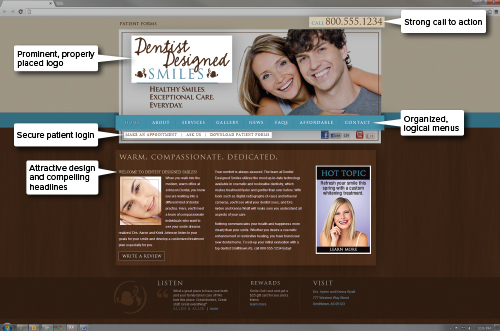 Deliver the Online Services Your Patients Expect
Turn your website into a secure portal that patients can use to view upcoming appointments and treatment plans, see their account balances, make payments, fill out and submit patient forms, and update their personal information.
Think Social and Mobile
More than 1.19 billion people used Facebook at least once a month in 2013 , which means you need to establish an active presence on popular social media sites. Then, work with your web development partner to build a site that adapts to different mobile devices and screen sizes to give patients the best possible experience.
Analyze Everything
Web analytics products such as Google Analytics provide a wealth of valuable information that can help you see if your website is meeting your objectives, including the average number of pages people view when they visit your site, which pages get the most views and much more.
Tap the Potential of Dentrix Integration
At first, adding advanced services to your website may seem beyond the scope of your budget and technical expertise. But Dentrix eCentral offers a complete set of ready-to-deploy patient communication tools that can transform your website into a rich, interactive resource that delivers all the advanced capabilities your patients expect.
Find the Right Team
The fastest, easiest way to build a game changing website is to work with a team that understands both the latest web technology and the needs of your practice. Together, Henry Schein and Jameson are ready to apply world-class web design, organization and development principles to your website—and deliver the advanced online capabilities that will impress your patients and save your practice time and money.
Start Building Your Game-Changing Website Today
In 2014, you can't afford to limp along with a limited, outdated website. Visit www.dentrix.com/jameson or call 1-800-734-5561 to speak with a representative about how the experts at Dentrix and Jameson can deliver the services and expertise you need to start your game-changing website today.
The businesses listed here are not owned or controlled by Dentrix or Henry Schein and have created these descriptions of their company, products and services themselves. Dentrix and Henry Schein make no independent assessment of the above descriptions and consumers should contact these providers directly if seeking additional information about their products or services.
Author:
Tatia Meghdadi, eServices Marketing Manager
Published:
02/28/2014