Save Time with Online Forms
In a recent survey, 87 percent of customers said they would rather fill out forms online before their appointment if it would save time during their visit. Why not give your customers what they want by allowing them to update medical history and patient information forms online before their dental appointment? With Dentrix and the eCentral Website Manager, patients can complete their forms online on your practice website. Best of all, once they've completed the forms, you can import them directly into Dentrix without having to type a thing.

To get started using online forms, you need to set up the forms in the Questionnaires module and then link them to your website through the Web Sync wizard. For more information on setting up online forms, visit the Dentrix Resource Center to view the "Posting Questionnaires on Your Website" article #61032.

Once the forms are set up, both new and existing patients can complete forms online. When a new patient visits your website, they can access forms by entering their name and appointment date. When existing patients visit your website, they will need to log in using the credentials they created when they registered for the site (Figure 1).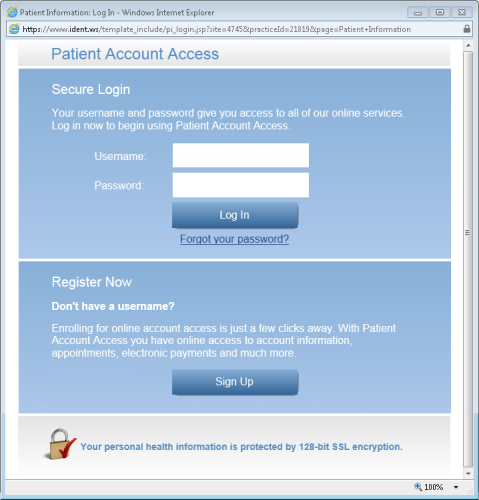 Figure 1

Once logged in, they can then click the Forms tab to see what forms they need to fill out for their next visit. To begin working on a form, the patient simply clicks the name of the form to open an online version of it.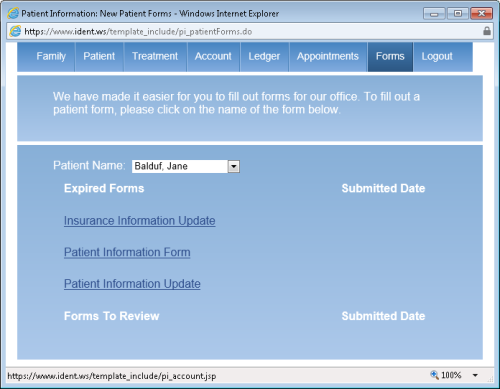 Figure 2

For existing patients, any previously entered information is displayed in the form so the patient can simply edit whatever has changed, rather than having to enter all the information again. The patient completes the form and then clicks submit when finished.

Meanwhile back in the office, staff will receive a pop-up notification in the lower-right corner of the desktop, indicating that a new form is available for import.




Figure 3

By clicking the notification (or by going in to the Questionnaires module), your staff can use the forms to update the patient's Family File with just a few clicks. Patients will thank you for the convenience of the online forms feature, and you'll love it for the efficiency it adds to your front-desk routines.

Learn More
To learn more about online forms, see the Website Manager topic in the eCentral Help, visit www.dentrix.com/websitemanager or visit the Dentrix Resource Center to view the "Allowing Patients to View and Update Their Info Online" article #61033.
Author:
Christy Rasmussen, eServices Coach
Published:
11/30/2013