Dentrix G5 Connected: Broadview Networks
Leverage Technology to Delight Patients and Grow Your Practice
There are many dental practices vying for new business, and one of the easiest ways to set yours apart is to provide unparalleled customer service. At Broadview Networks, we understand all your unique challenges, including increasing revenue, improving patient satisfaction and boosting staff productivity—all while keeping operational expenses to a minimum.
OfficeSuite for Dentists helps dental practices achieve all these objectives by delivering an all-inclusive communications solution that is easy to use. It provides your practice with everything it needs to communicate with patients and other practice locations: a cloud-based phone system, unlimited nationwide calling, state-of-the-art IP phones, basic and advanced system features, online fax service and call center services—all without any capital investment, maintenance contracts or additional IT resources. Since the system is cloud-based, it is fast and easy to make changes and updates from anywhere, helping you reduce operational expenses and ensure practice and patient continuity.
OfficeSuite for Dentists gets even more powerful when it is integrated with your Dentrix G5 practice management solution. Called OfficeSuite Dental™, it is the first phone system to integrate with Dentrix and helps your practice increase revenue by maximizing every patient phone conversation.
Here's how it works. When a patient calls into your practice, before the call is even answered OfficeSuite Dental triggers an automatic pop-up window on front-desk staff PCs that displays patient records, including family history, appointments, clinical details, prescriptions and account balance information. By having all this data at their fingertips, your staff can create, confirm or reschedule appointments in seconds for the patient and the patient's family—and can even answer questions about their prescriptions and treatments or collect overdue balances.
OfficeSuite Dental enables your employees to not only anticipate patients' needs, but to also address multiple needs with one short phone call without any searching for information. And by enabling staff to accomplish multiple tasks in less time, you can boost your practice's overall efficiency while lowering your day-to-day costs.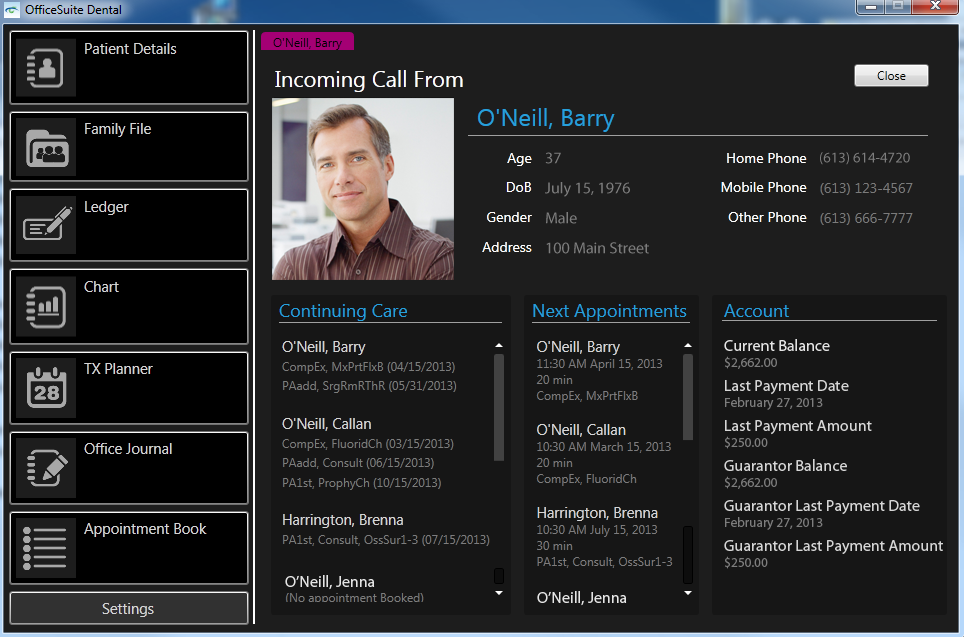 Pop-up windows display patient information the moment they call.
OfficeSuite Dental is powered by the information already stored in your Dentrix G5 system and provides your staff with instant access to patient data and call records with every incoming call so they can deliver fast, helpful and personalized service.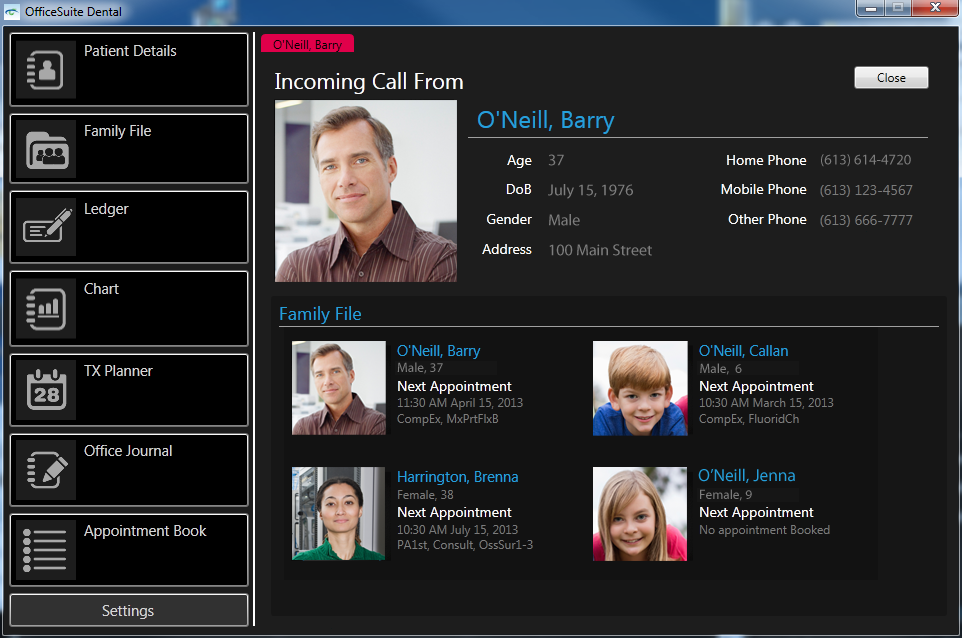 See who is calling and anticipate their needs before picking up the phone.
Delivering fast and personalized service makes all the difference in retaining existing patients, attracting new ones and increasing your practice's revenue. Instead of having to put callers on hold and waste time looking up information in a separate system, OfficeSuite Dental puts everything in one place. If you can meet your patients' needs in a way that fits into their hectic lifestyles, they will thank you by giving you more of their business and referring friends, family and colleagues. This is just one of the many ways OfficeSuite Dental helps you organically grow your practice and your bottom line.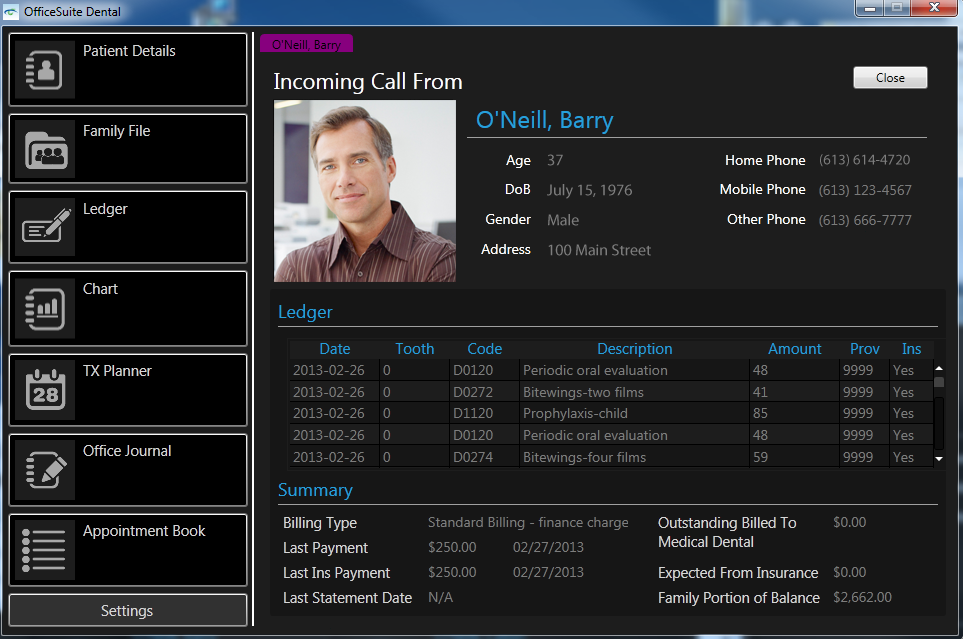 Increase revenue by booking more appointments for patients and their family.
Imagine if staff could book multiple appointments in one phone call:
"Hi, Mrs. Smith. Are you calling to confirm your appointment at 1:30 tomorrow? Great, we'll see you then. And by the way, it looks like your son's six-month cleaning is due. How is next Wednesday at 4:00? Perfect, you're all set."
OfficeSuite Dental makes it easier for your staff to book more continuing care appointments and reduces the number of calls they must make to patients, helping you increase revenue and decrease operational expenses.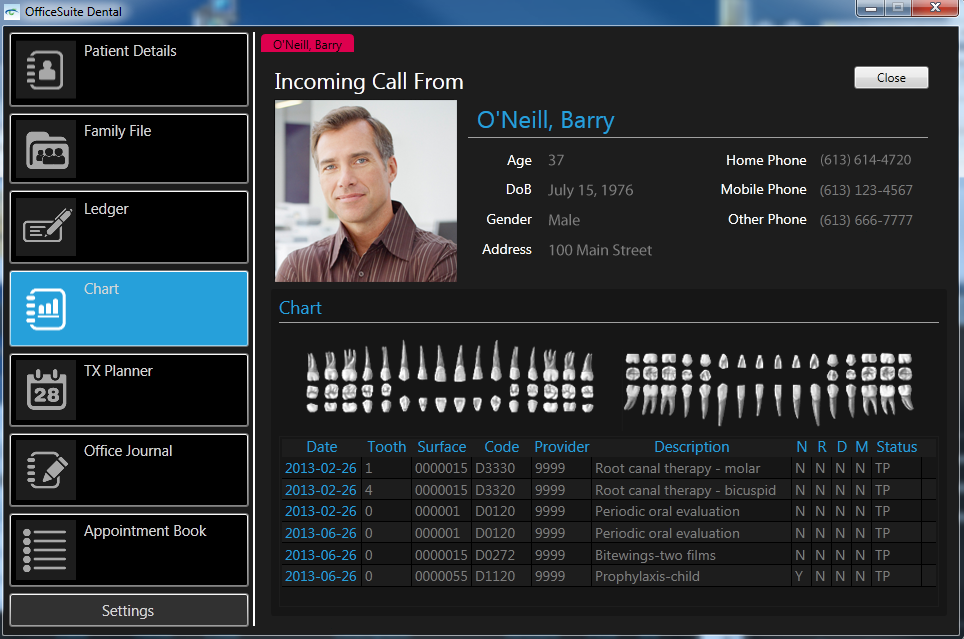 Make it easier to collect outstanding balances.
In a similar fashion, your staff no longer has to make as many calls reminding patients of outstanding balances or mail as many bills, which can be a drain on most practices' resources. With OfficeSuite Dental, all of that account information is right in front of staff members when the patient calls so they can remind them on the spot and settle it instantly.
OfficeSuite Dental saves time and improves efficiency by providing your staff with one-click access to all the Dentrix functions. With a single click in the pop-up window, you are put into the selected Dentrix function for the calling patient. Staff can access and update the patient's appointments, family file, contact information, chart, prescriptions and ledger. And since OfficeSuite Dental displays the patient's information the instant your phone rings, your staff never has to enter their name, saving time and reducing data entry and operational costs.
OfficeSuite Dental delivers countless benefits for practices that do not currently utilize Dentrix. It helps you prioritize calls to ensure patients speak to the right person every time. One example is the skills-based routing feature that forwards calls to the employee best equipped to assist patients based on their needs, such as a procedural specialist or billing manager. In addition, OfficeSuite Dental helps you generate additional revenue from existing patients by using announcements on hold to inform callers of any current promotions.
Besides helping you improve the level of service you provide existing patients OfficeSuite Dental also helps you improve new patient acquisition. Enjoy higher ROI on marketing efforts by tracking the success of campaigns and making adjustments to your advertising strategy based on real data. It takes the guesswork out of marketing by showing you what works so you can maximize the advertising dollars you spend.
OfficeSuite Dental also saves your practice real money since it is easy to manage, saving you from having to pay extra fees for simple changes to the system. Adding a new staff member takes minutes, and it's easy to change call routing for days your office must close (holidays, inclement weather, etc.) via an intuitive website that is accessible from your smartphone or tablet.
Increasing revenue is the ultimate goal of every dentist. The challenge is to find one solution that helps you accomplish all the objectives that directly impact revenue and, most importantly, patient satisfaction. With OfficeSuite Dental, your staff has all the tools they need to maximize every patient interaction and help grow your practice.
Author:
Kevin Goodman, Mng. Dir., Broadview Networks
Published:
08/31/2013