Make It Personal

Thanks to email, smartphones and the Internet, people communicate differently today than they used to. And if you're not taking full advantage of the latest communication tools and technologies, you're probably not communicating with your patients as effectively as you could be.
Of course, while email, texting and the Internet offer faster, more interactive ways to stay in touch with your patients, they can also complicate your communication efforts and lead to more busywork for your staff and confusion for your patients. So how can you leverage all of today's best communication tools to build stronger relationships with your patients?
The answer is Dentrix Communication Manager. Communication Manager helps you focus on automating, managing and unifying all of your patient communication tools—from postcard mailers to emails and two-way text messages.
A Fresh Take on Traditional Postcards
Dentrix Communication Manager automatically creates and sends attractive, professional postcards to notify patients whenever they're scheduled for a visit. And thanks to QR codes printed on the postcards, patients with smartphones can confirm their appointments, get directions and automatically update their calendars with a quick, simple scan.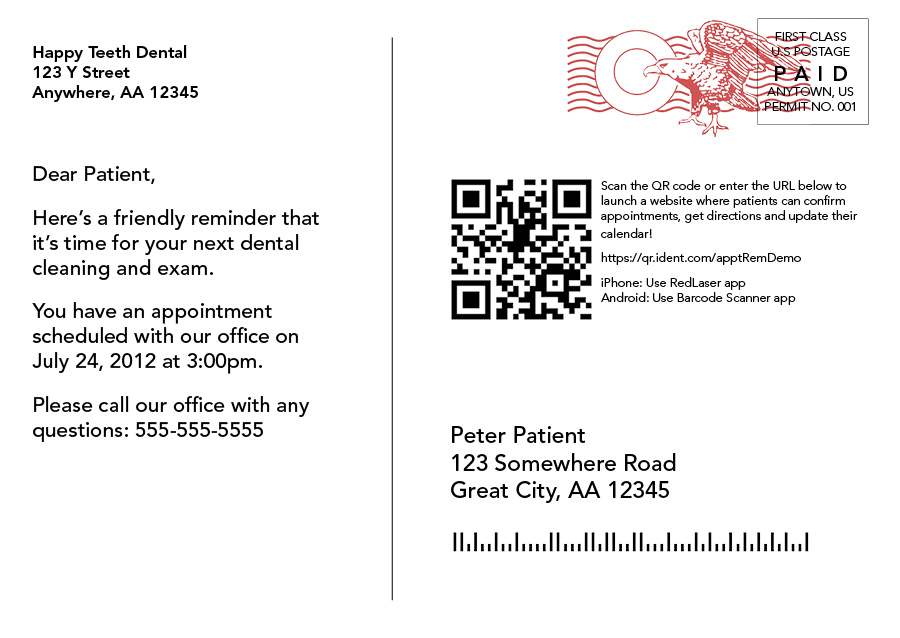 Moving Beyond Manual, Text-Only Emails
With emails sent automatically through Communication Manager, your patients can confirm their appointments, update their calendars, set reminders and even get driving directions to your office by simply clicking a button within the email. This can significantly reduce no-shows and lower your costs by grabbing your patients' attention early and making it easy for them to respond without calling your office.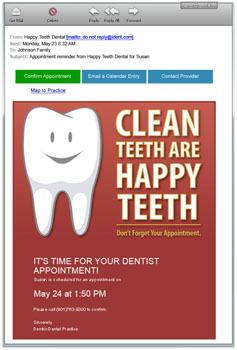 Quick Connections with Two-Way Texting
Not only does Communication Manager allow you to create text message campaigns and specify when text message reminders should be sent, it also allows you to create completely custom wording for the text message. And when patients confirm their appointment through the text message, the appointment status is automatically updated in the Appointment Book. If patients have a question about their appointment, they can reply to the text message. You'll get a pop-up chat window on your computer and be able to chat back and forth with them through text messages, which means you can take care of business immediately and efficiently.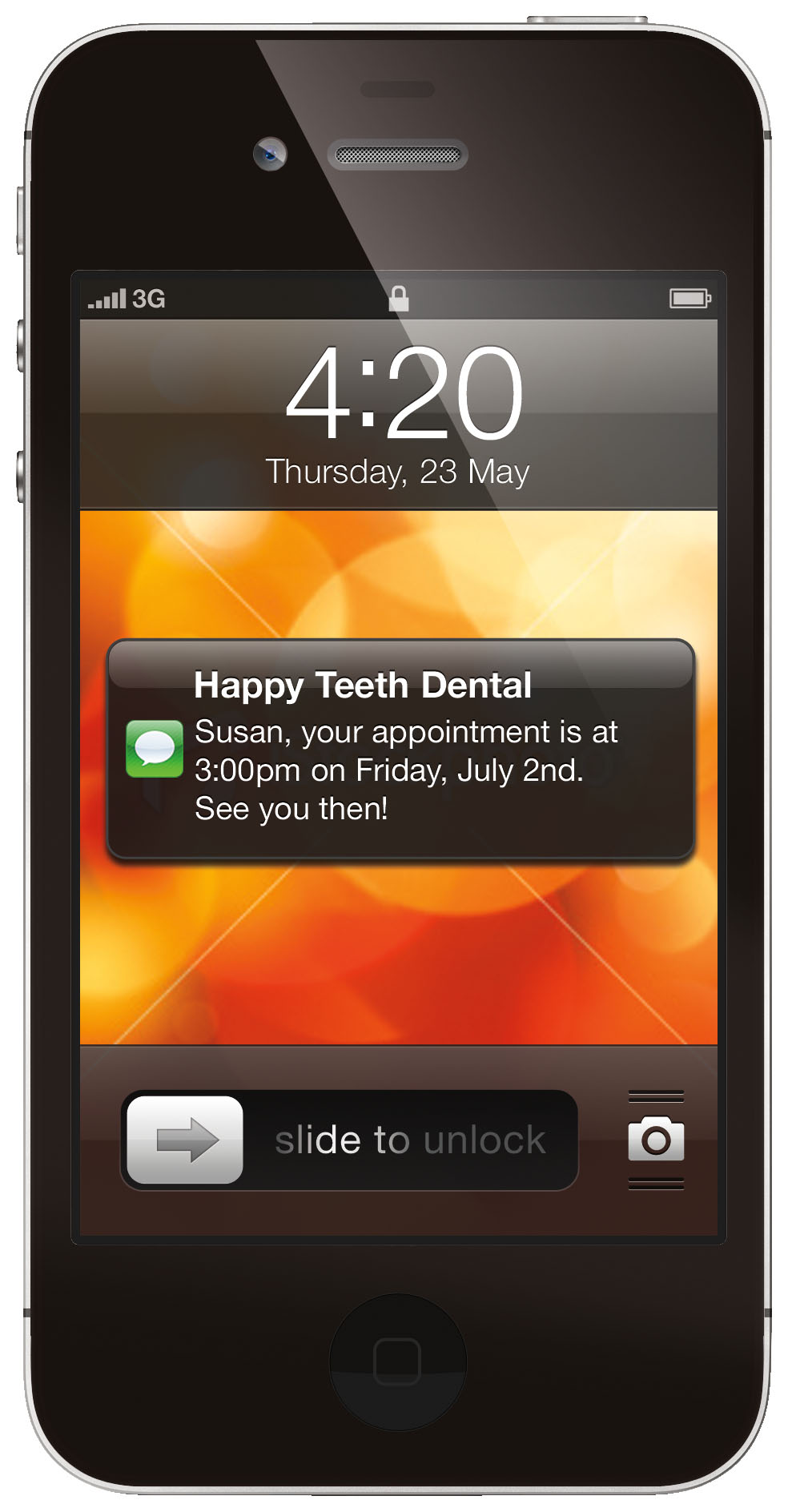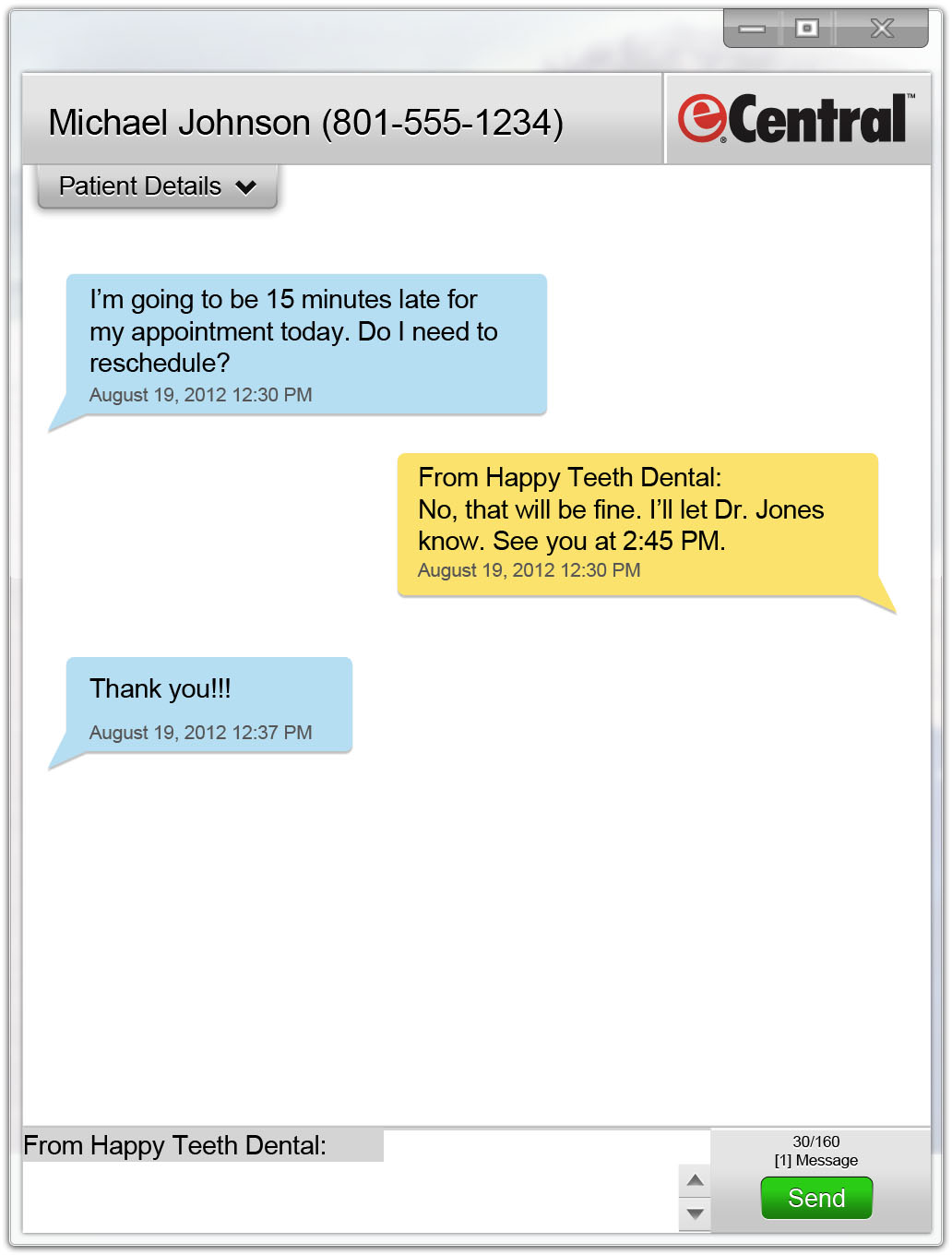 Make It Personal with Dentrix Communication Manager
Integrating all of these advanced communication capabilities into your Dentrix workflow makes sense. And it doesn't have to be a difficult, complicated or prohibitively expensive undertaking. Communication Manager combines all of the critical patient communication tools and capabilities you need. Taking full advantage of all the latest communication technology and personalizing every patient reminder may be easier and less expensive than you think.
To learn more about Communication Manager, visit www.dentrix.com/communicate or call 1-800-DENTRIX.
Author:
Erin Brisk
Published:
08/31/2013