Communication Manager Update

You can now manage your email, text and postcard messages in a single campaign and consolidate your existing campaigns to maximize your efficiency.
Set priorities for message types and Communication Manager will choose the right method based on your priority and available patient contact information.
When a reminder is set for delivery, it checks the first method (email, for example). If the patient has an email address, it will send the reminder by email. If there is no address for the first method, it will check the second method (such as text message). If the patient has a mobile phone number on file, it will send the reminder via text. If not, then it moves to the third preference (postcard) and sends the postcard reminder via mailing address.
Note: Not all delivery methods must be used for each campaign, so if you don't want to send postcards, you can remove the postcard delivery method from that campaign's delivery hierarchy.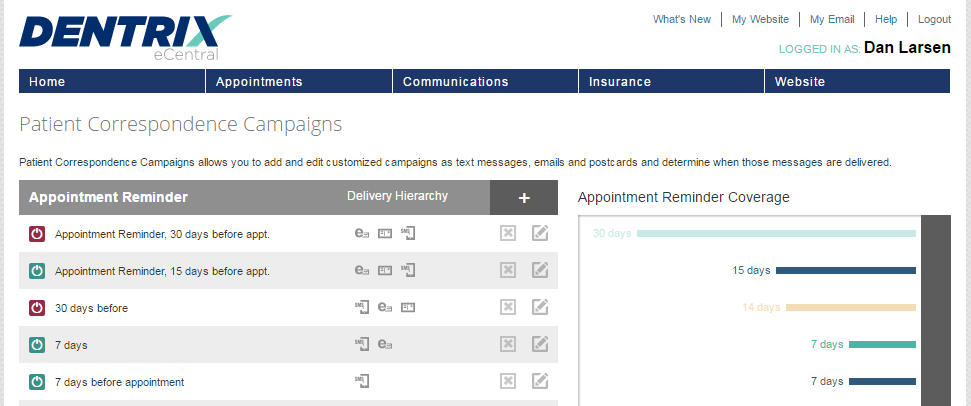 Centralization of Communication Campaigns
Communication Manager has simplified the communication campaign process for you by listing all of your campaigns, delivery hierarchies and activation statuses on the home page. Message types include:
Appointment Reminders
Continuing Care Due Reminders
Birthday Greetings
Appointment Scheduled Confirmations (for existing patients)
Welcome – New Patient Appointment Scheduled Confirmations
Author:
Published:
05/31/2016