New eCentral Website Templates
How long has it been since you last updated your practice website? If you're using one of the early eCentral website templates, an update could be long overdue.

Fortunately, eCentral allows you to refresh the entire website with ease. In fact, with just a couple clicks of a mouse, your website could have a completely new appearance. When you update to a new template, your content is automatically reformatted to the new design.

Now is a great time for a refresh. Several templates have been added to the eCentral website library over the last couple years. Five new templates were added last month. The five new templates even include flash animation—for example, the fish swim in the aquarium template below.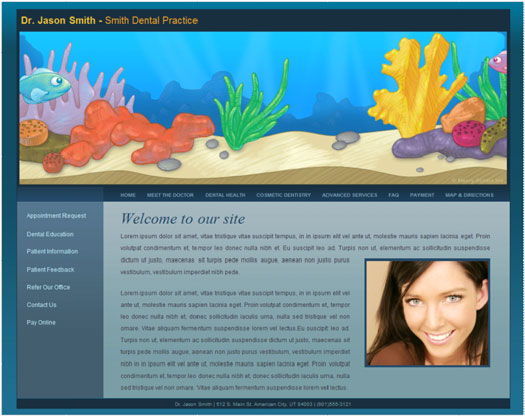 Follow these instructions to select a new template for your website:
From the Web Site tab menu, click Manage my Site to display the Manage My Site options.
Under Template Selection, click GET STARTED to display the Template Selection page.




Scroll through the templates that appear under Template Choices on the left side of the page. Click a sample to enlarge it and view the details of the template. The newest templates are on top.
You can change the colors and photos used in some templates. To do this, click the color palette above the template preview.
When you have selected the template and color to use for your website, click Finish. If you need assistance or have questions, call the eServices support team at (800) 734-5561,
option 1.
Author:
Damon Graves
Published:
09/30/2012