Smarter eCentral for Patients and Providers
eCentral helps dental healthcare providers communicate more effectively and efficiently with active patients. Because of this focus, it has become one of the fastest growing products in the Henry Schein Practice Solutions lineup. Finding ways to improve eCentral and allow users to be even more successful is an ongoing priority.
With that objective in mind, we've added some new features to eCentral that take advantage of the ever-increasing popularity of smartphones and tablets.
Postcards are Cool Again
Until now, the time-saving benefits of electronic appointment confirmation were limited to email and text message reminders. eCentral changes that. Now patients can confirm appointments from postcard reminders, without having to make a call.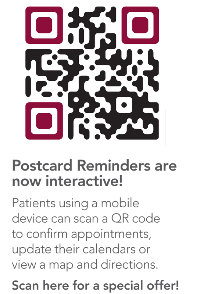 It's all possible because of the QR code, a type of barcode for smartphones or tablet devices. Because a unique QR code is automatically printed on each appointment reminder postcard, a patient can simply scan the QR code using a free, downloadable app and the camera on their mobile device. This opens an appointment window on their device, containing multiple options. One of the options is to confirm the appointment. Doing so updates the status of the appointment in Dentrix Appointment Book and on the patient's mobile device.
Another option is for the patient to add the appointment to a personal calendar. At the patient's request, eCentral delivers a calendar file that allows the appointment to be imported into Outlook (2007 and 2010), Gmail, Yahoo, Hotmail or AOL. Having the appointment date and time stored in the patient's personal calendar reduces the likelihood of a no-show.
Patients can also press a button to phone the practice (only from a smartphone) or get maps and directions.
Emails and Text Messages Loaded
Customers spoke up about the effectiveness of eCentral email reminders and their feedback was heard. As a result, the Confirm Appointment and Contact Provider buttons are now duplicated at the top of the email templates to improve visibility of the buttons.
Additionally, a new button allows patients to request a calendar file from an email reminder. As with the QR code feature mentioned above, this allows patients to import appointments into their personal calendars, improving the likelihood that they'll remember the appointment and arrive on time.
The email reminder template includes two other important links. The first is to open a map to the practice. By clicking this link, the patient will see the practice's location on a Google map and can enter a starting address for turn-by-turn directions.
The second new link allows the patient to view account balances. This link only appears if the following four criteria are met: the practice has a Dentrix-integrated website (Website Manager), accepts online payments, the patient or family has a balance and the patient has login credentials (user name and password). This feature serves as a subtle reminder when patients have an unpaid balance. They may be more inclined to pay the balance knowing an appointment is approaching.
Lastly, text message reminders now do a better job of relaying patient replies. Previously, patient appointment confirmation replies would automatically update the Dentrix appointment book, while non-confirmation replies (any response other than a "1" to confirm) would be delivered to eCentral where they could be retrieved by the front office. Now those non-confirmation replies are proactively displayed in a pop-up on the desktop, so the front office receives messages faster and more reliably.
The front office can also reply to text messages and conduct chat sessions with patients.
For more information, including setup instructions, click on "What's New for eCentral 3.0" in the eCentral help menu or call 800.734.5561.
Author:
Damon Graves
Published:
03/22/2012