Searching for Payors
Many Dentrix users have discovered how much easier it is to research information on payors (insurance carriers) these days—thanks to the Dentrix Payor Search Tool. Created to replace the 38-page-and-growing payor list, it is a valuable online resource for Dentrix users who want to submit electronic claims, add digital attachments or verify eligibility electronically. The tool will undoubtedly become even more vital as new functionality is added—like that announced at the end of this article!

Payor Search Tool overview
You can use the Payor Search Tool to see which payors accept electronic claims and attachments or provide electronic insurance eligibility verification. It even identifies those payors providing real-time data exchange. It's easy to use and allows you to build your own payor list.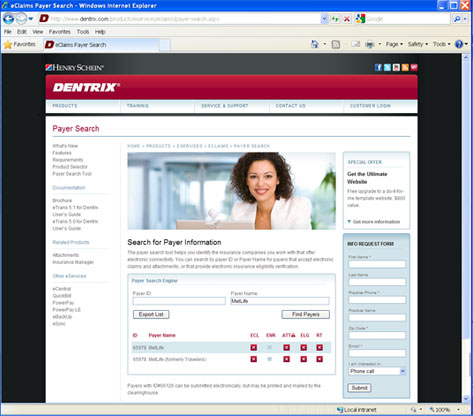 To search for a payor, simply enter the payor ID (i.e., 65978 for Metlife) and click Find Payors. The Payor Search Tool will create a report that shows which electronic services are available for that particular payor. You can also search by payor name, including aliases. For example, you could enter UCCI or United Concordia and receive the same accurate results.

The tool allows you to export the results as an Excel file for the creation of a customized list. By clicking Export List after conducting a search, the program will give you the option to open or save the results. If you choose Open, you can copy and paste the information from the newly created spreadsheet into a master spreadsheet containing all the payors that are relevant to your practice. You will no longer need to scroll through page after page of data to find what you're looking for.

You can also export the entire list into an Excel spreadsheet by leaving the fields blank, clicking Find Payors, then clicking Export.

Payor request
If the payor you're searching for doesn't offer any electronic connectivity, you can submit a request to have the payor added. We'll contact the payor and relay your interest. The more requests we have for a given payor, the better our chances are of influencing the payor to build the connections.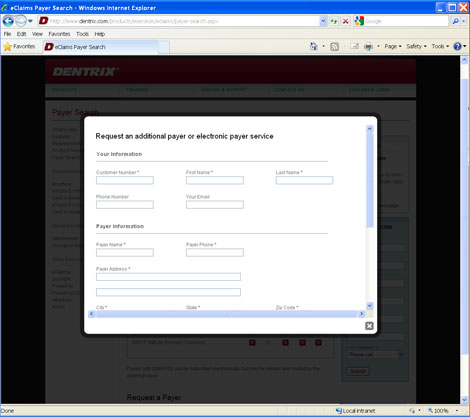 New functionality for added convenience
Many payors require providers to fill out and submit special enrollment forms in order to complete an electronic connection. While completing and submitting the forms is somewhat of a burden, getting the blank forms is now easier than ever. The Payor Search Tool indicates whether a provider requires special enrollment forms and then provides a link to open a PDF (electronic copy) of the form. You can now manage the special enrollment process on your own and without having to request the forms and wait for an email or fax.

Finding the Payor Search Tool
The Payor Search Tool is available on the eClaims and eCentral Insurance Manager web pages on the Dentrix website or by clicking the link below. Add this link to your favorites for quick and easy access:

www.dentrix.com/products/eservices/eclaims/payer-search.aspx
Author:
Published:
04/29/2011