Upgrading office technology creates many benefits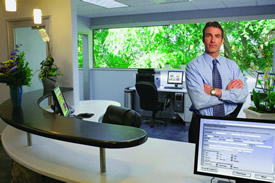 Technology and software is evolving rapidly, giving users more time-saving features and faster processing speeds. In most businesses, the rate of new software upgrades and advances in computing power requires business owners to plan for technology "refreshes" every few years. By proactively planning for technology upgrades, business owners can ensure their staff has the tools to improve efficiency and deliver quality customer service.

The same is true for dentists. The old adage of keeping a computer as long as it still does what you want is no longer smart advice. Todays dentists must take into consideration whether their PCs can work with the latest advances in modern software, and what will happen to their data when older systems fail.

Advances in dental office technology in just the past few years have been impressive – from high-speed computers and more powerful practice management systems, to distributed audio and video systems to digital phones. New technology developed to standards also makes it possible to link the various products into one, integrated solution.

Having the right office technology in your practice provides some obvious and not-so-obvious benefits. The obvious benefits include:
Improving software speeds, which makes your staff more productive.
Improving the equipment reliability by reducing the chance of breakdown and failure of older systems.
Allowing tighter integration with other new dental technology, such as digital x-rays and intra-oral cameras.
Ultimately, these benefits lead to improving your practice management. By helping your staff become more efficient and your technology more reliable, you can focus more time on growing your business, rather than worrying about your technology.

Some of the less-than-obvious benefits can actually have a greater impact on your practice. They include:
Attracting and retaining higher quality team members. Providing your staff new  tools that improve their job performance by simplifying and speeding up their tasks is another tactic for keeping top employees happily employed.
Strengthening your professional image. With more patients becoming technology savvy – from using the web to search for dentists and pay bills online to using kiosks and iPads to input data into forms, having the latest technology makes you look more professional and improves the patient experience.
But how do you know which of your older technology is putting your practice at risk? What are the most affordable steps you can take to integrate your dental office technologies and set a foundation for growth?  For the average computer technician, these questions are not easy to answer -- especially ones without extensive experience in the dental industry.

When you are ready to upgrade your office technology, it's important to have technology experts you can trust to help you formulate your vision, build an affordable technology plan, properly test and install the technology and ultimately support your system.

Henry Schein TechCentral is a team of experts who do just that. TechCentral is Henry Schein Dental's single-source provider of integrated dental technology solutions and support for dental practices. They help dentists build the best technology solutions for their practice -- within their budget.

When most dentists and computer companies refer to dental office technology, they often mean just computers, monitors and articulating arms. But today's advanced dental offices implement a much larger array of office automation technologies and including multizone video and audio distribution, digital phone systems.

Integrating these different technologies requires someone experienced in dental technology. You wouldn't hire a carpenter if you saw him using a screwdriver as a hammer. And you won't be happy if your technology does not function correctly because the components were not wisely chosen.

Many technology problems occur because of incompatible or out-of-specification products failing to work together properly. An experienced technology provider will possess the necessary expertise with dental or office technology to create a 'treatment plan' of products that will work together.

With more than 15 years of experience and 2,000 technology installations in the dental industry, TechCentral knows how to design integrated solutions using the latest technology advances. More importantly, TechCentral  certifies each solution to work properly when installed in your practice.

One of the reasons for TechCentral's success is its tight partnership with leading technology vendors, such as Microsoft, Dell, Samsung, HP, Checkpoint and others. TechCentral works closely with these manufacturers. We understand their products and work together to build components to our specifications for reliability and affordability.
For more information on how Henry Schein TechCentral can help you implement your technology vision, visit www.henryscheindental.com/techcentral or call 800.288.7691.
Author:
Robert Staub, Henry Schein TechCentral
Published:
07/07/2010